On Tuesday, October 4, Telos Press hosted a book launch for A Journal of No Illusions: Telos, Paul Piccone, and the Americanization of Critical Theory at St. Mark's Bookshop in New York City. Tim Luke (co-editor of the book), Russell Berman (editor of Telos), and publisher Maria Piccone (Telos Press) provided an engaging look at the history of a courageous and often controversial journal, its brilliant and volatile founder, Paul Piccone, and Telos's ongoing contributions to American intellectual life. We had an outstanding turnout—a testimonial to the past, present, and future of Telos, now celebrating its 43rd anniversary.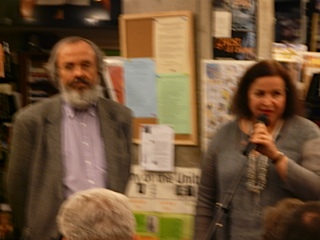 Tim Luke and Maria Piccone
Hosting the event at St. Mark's was a very personal experience for Telos Press. St. Mark's began in 1977 in the East Village, and Telos moved to the East Village in the early 1980s. We share similar readers: students, scholars, and professors from the neighborhood (NYU, The New School, Cooper Union). More importantly, we are among the few "independents" that endure and remain vibrant, and that do so without the support of endowments, universities, or other institutions.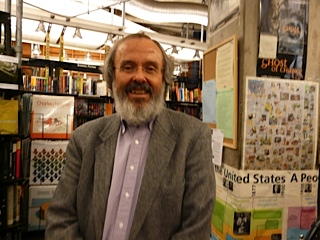 Tim Luke
Unfortunately, St. Mark's has been in the news lately, as it faces the possibility of having to close its doors at the end of October. For many years, the St. Mark's Bookshop has been a vital Lower East Side cultural institution, but its survival requires a rent that is low enough for it to survive. Please join us in supporting the Cooper Square Committee's petition of Cooper Union, the bookstore's landlord, to give St. Mark's Bookshop a lower rent. You can sign the petition here.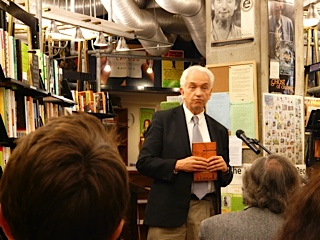 Russell Berman
In our newest book, A Journal of No Illusions, an array of authors, many of whom participated in the development of Telos, examine the ongoing legacy of the journal, and address the ways in which Telos formed a generation of young intellectuals, who asked for a "critical theory" to understand both the impasses and possibilities for a progressive politics. At the book launch event on Tuesday, Russell Berman read a snippet from his chapter, describing how Paul was decades ahead of his time in terms of the structures of intellectual life. While some of the contributors knew Paul as their teacher and friend, Russell drew comparisons to another contributor to the book, Elisabeth Chaves, a young scholar who never met Paul or a Telos insider, who wrote about Telos then and now. Elisabeth discussed how Telos currently engages with readers on social networking sites like Facebook and Twitter, and how these tools are important for the future by reaching an even wider audience, as the once print-only journal develops and enhances its online presence. The great news is that Telos will soon have all of its back issues available online, beginning with its first issue in 1968. The issues will be available on our Telos Online website (hosted by HighWire Press) beginning January 2012.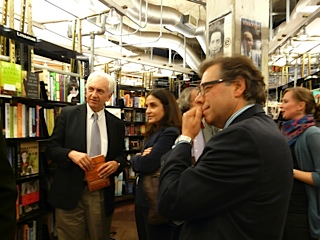 Here's a sample of what others have said about A Journal of No Illusions:
"The journal Telos was central to the New Left and then to the critical self-appraisal of its limits and illusions. It was vital to the rise of critical theory in the United States, and it was always a controversial part of the mixture of theory, politics, and social analysis. This book is an engaging look at the journal, its brilliant and volatile leader Paul Piccone, and a key period in American intellectual life and political history."
—Craig Calhoun, University Professor of the Social Sciences, New York University, and President, Social Science Research Council
"Marx said he was 'not a Marxist,' and Piccone advised readers to 'forget Marxism.' Marx would have loved to publish in Telos. Exposing illusions was his métier, and Telos fostered the kind of rampaging critique that he liked. This excellent volume records and represents the journal's continuing political engagement and its inspiring diversity."
—Terrell Carver, Sociology, Politics and International Studies, University of Bristol
"Paul Piccone was one of the unsung heroes of American social theory. Personally, he was complex, difficult, brilliant, abrasive, charming, and ever faithful. Intellectually, he and the Telos group brought critical theory to America so that it could be read and understood without the false claims that so often accompanying imports of that kind. The book's title tells it all: A Journal of No Illusions. Many of America's leading social thinkers have contributed to a volume that will delight and inform all who read it."
—Charles Lemert, Senior Fellow, Center for Comparative Research, Yale University