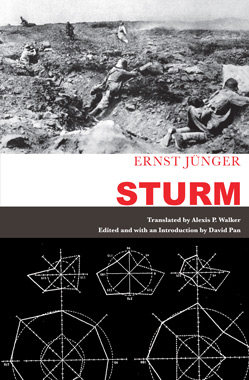 As many Telos readers know, July 1st marked the 100th anniversary of the start of the Battle of the Somme. Lasting over four months and resulting in hundreds of thousands of casualties on each side, the battle was one of the bloodiest in human history.
Ernst Jünger's Sturm, set in the days before the Somme offensive, provides a vivid portrait of the front-line experiences of four German infantry officers and their company. Now available for the first time in English translation from Telos Press, Sturmpresents readers with a work of literature that will interest not only students of Jünger's work and of World War I, but also any reader in search of a powerful story of war and its effects on the lives of the men who endure it.
Save 20% on your purchase of Ernst Jünger's Sturmwhen you shop in our online store. Just use the coupon code BOOKS20 during the checkout process.
Praise for Ernst Jünger's Sturm
"The rediscovery of Ernst Jünger's Sturm, abandoned by its author after its first publication in 1923, significantly alters our understanding of Jünger's place in modern European literature. The literary and aesthetic moments, frequently seen as secondary in Jünger's early work, turn out to be constitutive from the very beginning. While the plot deals with the experience of war in 1916, Sturm's ultimate concern is the possibility of radical modern art under conditions of extreme violence."
—Peter Uwe Hohendahl, Jacob Gould Schurman Professor Emeritus of German Studies and Comparative Literature, Cornell University
"This translation of Sturmfills a long missing gap in the German war literature of the 1920s available to English readers. The translation by Alexis Walker is vibrant and precise while also reflecting the nuances and tone of the original German text. David Pan's introduction sets the stage with a masterful overview of the context in which Sturm was written and pays particular attention to the debates since then on the aestheticization of the war experience."
—Elliot Neaman, Professor of History, University of San Francisco, and author of A Dubious Past: Ernst Jünger and the Politics of Literature after Nazism
"An unblinking account of a culture in twilight, this novella recasts central themes of Ernst Jünger's chronicles of the Great War: the unrelenting test of human perdurance under new technologies of annihilation; the naturalist's precise aesthetic of life teeming amid martial insanity; and, a new note, the harrowing free fall of civilian life into erotic aimlessness and inebriated despair, for which only art serves for an antidote. In Alexis Walker's carefully wrought translation, Sturmwill be a welcome surprise to Jünger's veteran readers, and an ideal introduction for those who are curious to know more than his name."
—Thomas Nevin, author of Ernst Jünger and Germany: Into the Abyss, 1914–1945