Zvi Tauber's "Herbert Marcuse on Jewish Identity, the Holocaust, and Israel" appears in Telos 165 (Winter 2013). Read the full version online at the Telos Online website, or purchase a print copy of the issue in our store.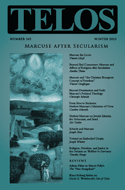 The article focuses at three themes of Herbert Marcuse's approach, views, and attitudes concerning Judaism, Jewish history and the State of Israel. Marcuse, whose research and philosophy only marginally addressed the "Jewish question," never denied his Jewish origins, but at the same time he never used this objective fact as an exclusive or decisive argument to affect his views on various issues, not even regarding world-historical matters of particular relevance to the Jews. Even if generally, positively, Marcuse endeavored to constitute the Marxian Realm of Freedom, or at least strove to fathom scientifically why in the course of modern history, an authentic revolution for the liberation of man has failed repeatedly, his major, immediate, intellectual and socio-political concern was the struggle against the reemergence of an oppressive reign of horror, including a struggle against the possible recurrence of a genocide.
Marcuse supported the existence of the State of Israel and its right to defend itself. The objective rationale for this was, ultimately, the Holocaust of European Jewry: namely, the perception of the State of Israel as a refuge and a shelter for Jews against persecutions and repression. But this position did not prevent him from strongly criticizing Israeli policy since the end of the Six-Day War (June 1967) for objecting to peace, as well as for its attitude toward the Palestinians in Israel and in the occupied territories as inferior, a policy that he understood an expression of "racist and nationalistic tendencies." It was the policy of Israel's governments and its possible consequences that he regarded as the greatest threat to the continued existence of the Jewish state.