Congratulations to Adrian Pabst, one of our Telos editorial associates, on the publication of his new book, Metaphysics: The Creation of Hierarchy, published by Eerdmans with the Centre of Theology and Philosophy, as part of their Interventions series.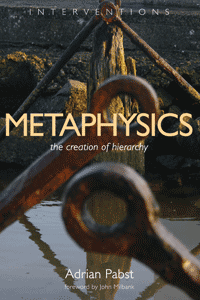 "This book does nothing less than to set new standards in combining philosophical with political theology. Pabst's argument about rationality has the potential to change debates in philosophy, politics, and religion." (from the foreword by John Milbank)
This comprehensive and detailed study of individuation reveals the theological nature of metaphysics. Adrian Pabst argues that ancient and modern conceptions of "being"—or individual substance—fail to account for the ontological relations that bind beings to each other and to God, their source. On the basis of a genealogical account of rival theories of creation and individuation from Plato to "postmodernism," Pabst proposes that the Christian Neo-Platonic fusion of biblical revelation with Greco-Roman philosophy fulfills and surpasses all other ontologies and conceptions of individuality.
Please visit the Centre of Theology and Philosophy website for ordering information.