The Midwest Book Review recommends A Journal of No Illusions: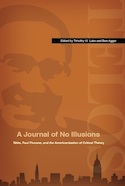 Anything of worth is worthy of criticism. A Journal of No Illusions: Telos, Paul Piccone, and the Americanization of Critical Theory traces the history behind the journal Telos, which contained many writings discussing the new direction of the American left, with much discussion of European social theory and its future and applications to our world. Paul Piccone created the journal and never expected it to grow to the place it has, and Timothy W. Luke and Ben Agger present an intriguing literary history behind the publication and where it has came from. A Journal of No Illusions is a fine pick for any journalistic studies collection discussing historic publications.
Purchase your copy of A Journal of No Illusions here and save 20% off the list price.