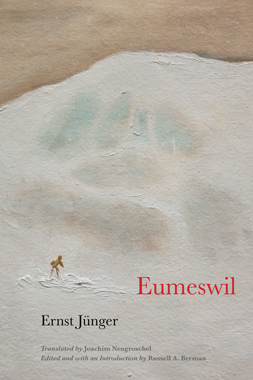 "Incidentally, I notice that our professors, trying to show off to their students, rant and rail against the state and against law and order, while expecting that same state to punctually pay their salaries, pensions, and family allowances, so that they value at least this kind of law and order. Make a fist with the left hand and open the right hand receptively—that is how one gets through life."
—Ernst Jünger, Eumeswil
Save 20% on your purchase of Ernst Jünger's Eumeswil when you shop in our online store. Just use the coupon code BOOKS20 during the checkout process.
"Set in a post-apocalyptic future, Eumeswil is a brilliant novel of ideas that explores the corruption of power and conformism, even as the anarchic hero charts a course into an unknown freedom. This is a gripping intellectual adventure that merges the tradition of dystopic fiction with philosophical lucidity and a rare aesthetic sensibility."
—Adam Johnson, author of The Orphan Master's Son and 2013 Winner of the Pulitzer Prize in Fiction