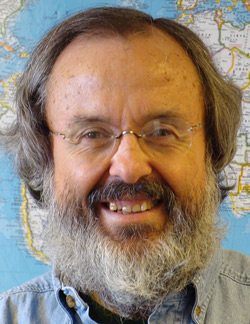 Like Telos editor Russell Berman, bookline editor Tim Luke began working with Telos as an intern in 1976 during his first year of graduate studies at Washington University, St. Louis, in the Department of Political Science. His initial assignment as an intern, he remembers, was unloading boxes containing Telos 26 (Winter 1975) from a truck that arrived on campus the night before from the printer. Tim was a student of Paul Piccone's, and enjoyed the unique sociology courses that Paul taught to students from many departments at Washington University. Paul proved to be one of Tim's closest mentors and teachers, and the two became very close friends. Tim has also served as an Associate Editor for Telos since the early 1980s, and he has been involved in the development of Telos Press books since the 1970s, when he worked on the production of Gustav Landauer's For Socialism (1978) and Jean Baudrillard's For a Critique of the Political Economy of the Sign (1981).
In 2005, Tim became the bookline editor for Telos Press, and he has successfully overseen the publication of twelve new Telos Press books. Among these books are classic texts by Carl Schmitt, Ernst Jünger, and François Laruelle, as well as more contemporary political and historical analyses, such as Matthais Küntzel's Jihad and Jew-Hatred and Frederik Stjernfelt and Jens-Martin Eriksen's The Democratic Contradictions of Multiculturalism. With Ben Agger, Tim also edited A Journal of No Illusions, an anthology of articles reflecting on Telos's long history and its role in bringing various traditions of European Critical Theory to readers in the United States.
With Tim's leadership, Telos Press Publishing will continue to introduce other new books that complement the diverse theoretical approaches of Telos. Tim is currently University Distinguished Professor of Political Science at Virginia Polytechnic Institute & State University. He also is chair of the Department of Political Science in the College of Liberal Arts and Human Sciences as well as chair of the Government and International Affairs Program in the School of Public and International Affairs in the College of Architecture and Urban Affairs.