For all fans of Telos in the New York City area, we will be holding a book launch for A Journal of No Illusions: Telos, Paul Piccone, and the Americanization of Critical Theory, edited by Timothy Luke and Ben Agger, on Tuesday, October 4, from 7pm to 9pm, at St. Mark's Bookshop, 31 Third Avenue, New York, NY.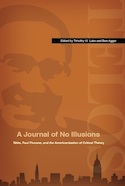 In 1968, when Paul Piccone started a journal called Telos, no one could have reasonably expected for it to become an intellectual institution. Originally conceived as the self-consciousness of the American New Left, the journal soon ranged more widely as its authors introduced European social theory and philosophy to a largely American audience unaware of these traditions. Piccone forged a "journal of no illusions" that was iconoclastic, skeptical, and yet motivated by the hope that critique and engagement could become constitutive principles for politics and everyday practices. In this book, an array of authors, many of whom participated in the development of Telos, examine the ongoing legacy of the journal, and address the ways in which Telos formed a generation of young intellectuals, who asked for a "critical theory" to understand both the impasses and possibilities for a progressive politics.
Please join Tim Luke (co-editor), Russell Berman (editor of Telos) and publisher Maria Piccone (Telos Press) at St. Mark's Bookshop to launch this engaging look at the history of a courageous and often controversial journal, its brilliant and volatile founder, and a vital period in American intellectual life. Maria Filice, author of Breaking Bread in L'Aquila (Food and Fate Publishing, an imprint of Telos Press), will be donating white wine and appetizers for the event. Come join us for the celebration!