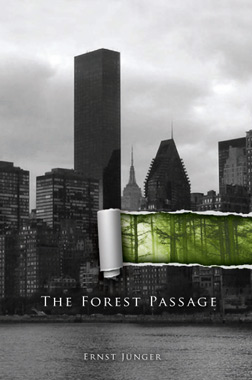 The Forest Passage
by Ernst Jünger
Translated by Thomas Friese
Edited and with an Introduction by Russell A. Berman
Ernst Jünger's The Forest Passage explores the possibility of resistance: how the independent thinker can withstand and oppose the power of the omnipresent state. No matter how extensive the technologies of surveillance become, the forest can shelter the rebel, and the rebel can strike back against tyranny. Jünger's manifesto is a defense of freedom against the pressure to conform to political manipulation and artificial consensus. A response to the European experience under Nazism, Fascism, and Communism, The Forest Passage has lessons equally relevant for today, wherever an imposed uniformity threatens to stifle liberty
Ernst Jünger's The Forest Passage will be available in December from Telos Press.
Previous Works by Ernst Jünger from Telos Press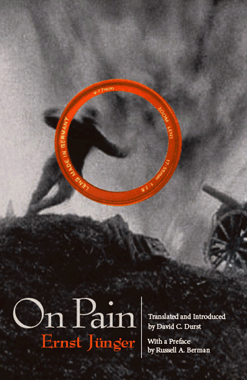 On Pain
by Ernst Jünger
Ernst Jünger's On Pain is an astonishing essay that announces the rise of a new metaphysics of pain in a totalitarian age. Jünger rejects the liberal values of liberty, security, ease, and comfort, and seeks instead the measure of man in the capacity to withstand pain and sacrifice. On Pain heralds the rise of a breed of men who—equipped with an unmatched ability to treat themselves and others in a cold and detached way—become one with new, terrorizing machines of death and destruction in human-guided torpedoes and manned airborne missiles, and whose "peculiarly cruel way of seeing," resembling the insensitive lens of a camera, anticipates the horrors of World War II.
The Adventurous Heart:
Figures and Capriccios
by Ernst Jünger
In The Adventurous Heart, Ernst Jünger assembles sixty-three short, often surrealistic prose pieces—accounts of dreams, nature observations, biographical vignettes, and critical reflections on culture and society—providing, as he puts it, "small models of another way of seeing things." Here Jünger experiments with a new method of observation and thinking, which he calls stereoscopy, that unites lucid and precise observation with the unconstrained receptivity of dreams. Finally available in English translation, The Adventurous Heart offers readers a fresh look at one of twentieth-century Germany's most extraordinary writers.