On Saturday, October 26, the Telos-Paul Piccone Institute and the Centro Primo Levi will host a panel discussion on Telos 164: Italian Jews and Fascism. The discussion will be held at Casa Italiana Zerilli Marimò, 24 West 12th Street, in New York City, from 1 pm to 4pm. We hope to see you there.
About the Issue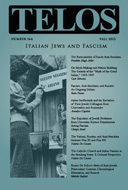 Reviewing the totality of Italian work on Fascism produced over the past two decades, it is safe to say that no topic has received more attention than what happened to the Jews during the Fascist regime, the German occupation, and the immediate postwar period. Regrettably, little of this newer literature has been translated or received significant attention outside of Italy. In Telos 164, we feature contributions by Italian scholars whose research illuminates what had previously been mystified and left largely to official myths and anecdotal apologia.
Read Franklin Hugh Adler's introduction to Telos 164 here, and purchase your copy of the issue in our online store.
Copies of Telos 164 will be available for purchase at the event. Congratulations to Frank Adler and the contributing authors for another outstanding issue of Telos!
Recent Issues of Telos on Italian Fascism
In earlier issues of Telos, we also focused our attention on Italian Fascism and the scholarship that has emerged around it. These and other back issues of Telos are available online in our online store.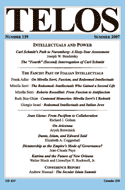 Telos 139 (Summer 2007):
Intellectuals and Power
The 2005 publication of Mirella Serri's I Redenti demonstrated how a generation of Fascist intellectuals could be "redeemed" after the war. This issue includes an essay on Serri's work by Frank Adler, two pieces by Serri, a critical review by Ruth Ben-Ghiat, and Giorgio Israel's analysis of the significance of Serri's thesis for a specific evaluation of the memory of Fascist racial politics. Purchase your copy here.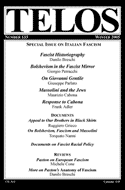 Telos 133 (Winter 2005):
Special Issue on Italian Fascism
Edited by Frank Adler and Danilo Breschi, Telos 133 focuses on new "post-Defelician" scholarship from Italy as well as on left tendencies within Italian Fascism. The issue includes new essays from Danilo Breschi, Giorgio Petracchi, Giuseppe Parlato, Maurizio Cabona, and Frank Adler, along with English translations of related historical documents. Purchase your copy here.