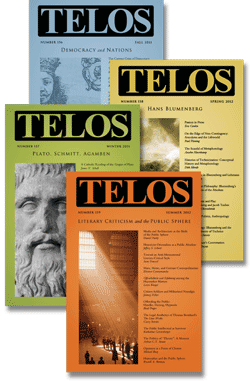 As a small independent publisher, Telos Press relies on both individual and institutional subscribers. If your university or local library does not yet subscribe to Telos, please encourage your librarian to begin a subscription by downloading and printing this recommendation form, available here (in PDF format). Simply print the form, fill it out, and pass it along to your librarian.
Institutional subscriptions to Telos are available in both print and online formats. In addition, we've recently made our complete archive available for a one-time purchase. Libraries that take advantage of this offer will ensure that their patrons have perpetual access to the over forty year history of the journal. Providing access to the Telos Online archive is a great way to support students who are interested in our TELOSthreads program.
For more on institutional subscriptions to Telos, visit our Information for Libraries page.