The following paper was presented at the 2016 Telos Conference, held on January 16–17, 2016, in New York City. For additional details about this and upcoming conferences, please visit the Telos-Paul Piccone Institute website.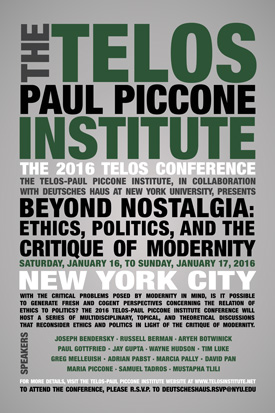 What is modernity? First, a period "occasioned by a peculiarly ahistorical view of the world, which is flattened into an eternal present. The world we experience appears to exhaust all possible worlds." Second, modernity is deeply rooted in the three Kantian principles of Enlightenment: "'What can know?' the question of knowledge; of the 'What should I do?' which is the question of ethics, and of the 'What can I hope?'"
The Western modern project is dependent upon both Greek and Hebrew antiquity. In ancient Ionia, Thales of Miletus predicted a solar eclipse, Anaximander predicted the changing of the seasons, Theodorus invented the ruler, the carpenter's square, and the level, and Hippocrates began accumulating medical knowledge through trial and error. These "pre-Socratic" Ionians were merchants and artisans; they worked with their hands, whereas the Athenians were engaged primarily in contemplation.